Malaysia's new government has been in power for 5 months. But in that short time, they have introduced a plethora of reforms to Malaysia's political system. This is a refreshing change from the dogmatic and secretive politics of the Najib era. Unsurprisingly, the PAP Government has been closely monitoring developments in Malaysia. Notably, the PAP Internet Brigade, a de facto extension of the party, has begun a sophisticated online campaign to discredit the Pakatan Harapan Government. This is hardly surprising given that policies of the current regime run counter to the decades-old narrative of the PAP.
Taking Mahathir out of the equation, PH's model would not only provide a strong alternative to the PAP's system of governance, but it would also lend weight to the local opposition which has been advocating such policies for years.
Reducing ministers' salaries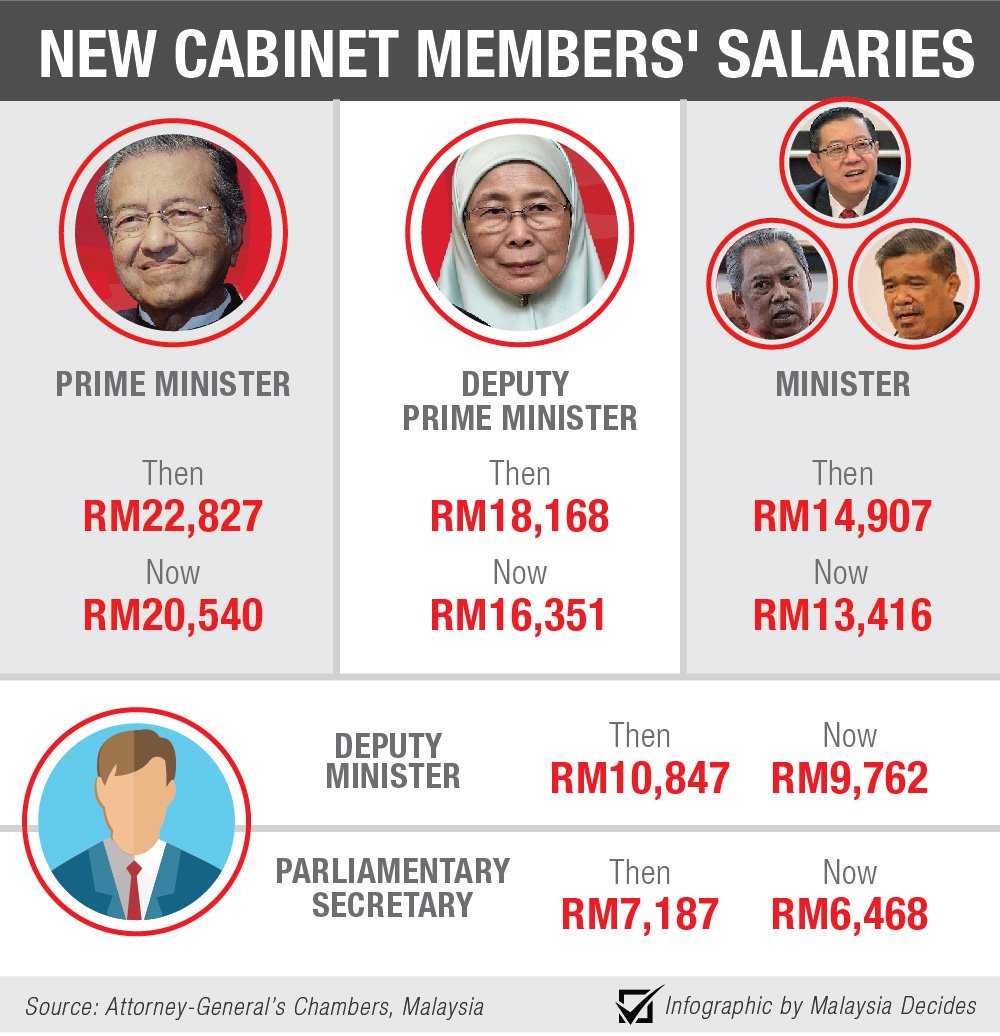 On 23 May, Prime Minister Mahathir Mohamad announced that Malaysia will cut the salaries of its Cabinet ministers by 10 percent with immediate effect. "This shows that we are paying attention to the financial problems of the country," he said.
In contrast, Singapore's leaders remain insistent that million dollar ministerial salaries are necessary for Singapore to "attract people from the private sector" and prevent corruption. This despite little to no evidence of any correlation between the salaries of public officials and the level of corruption in a given country. To date, Singapore's ministers remain the highest paid politicians in the world, with each cabinet minister making more than the entire Malaysian Cabinet – combined.
Declaring assets of MPs
A day after announcing cuts to ministerial salaries, Deputy Prime Minister Wan Azizah Wan Ismail announced that all ministers, deputy ministers and members of parliament must declare their assets. This is to ensure elected representatives are transparent and free from corruption. Such a requirement, however, does not exist in Singapore.
Eliminating GST
A key promise of Pakatan Harapan's manifesto was to abolish the highly unpopular GST within the first 100 days. On 16 May, that promise was fulfilled as Malaysia's Finance Ministry announced that GST will be removed for consumers by 1 Jun 2018. In its place is the less comprehensive Sales and Service Tax (SST).
In Singapore, the PAP Government announced during the 2018 Budget that GST would be raised from 7 to 9 percent some time between 2021 and 2025. This increase was announced in spite of record budget surpluses and revenues.
Rolling back on fake news legislation
In one of his first acts as Prime Minister, Dr. Mahathir vowed to review a controversial law against "fake news" hurriedly passed before the elections and seen as aimed at critics of the Najib regime. The Anti-Fake News Act of 2018 carries stiff punishments of up to six years in prison and a maximum fine of RM500,000 (S$170,000).
Meanwhile, in Singapore, lawmakers are in the midst of crafting new fake news legislation. While it remains to be seen just how draconian and sweeping this new law will be, the current regime's attitude towards legitimate criticism doesn't bode well for the future of political discourse.
Improving human rights
Malaysia's new Home Ministry will review 7 laws relating to national security which are no longer suitable in today's landscape, said the new Home Minister Muhyiddin Yassin.
He said these laws were the Printing Presses and Publications Act 1984, Sedition Act 1948, Peaceful Assembly Act 2012, Prevention of Crime Act 1959 (Poca), Security Offences (Special Measures) Act 2012 (Sosma) and the Prevention of Terrorism Act 2015 (Pota).
In October 2018, the Malaysian Government announced that it would be tabling a bill to abolish the death penalty in Malaysia. In addition, the Government has also imposed a moratorium on all executions until the death penalty is abolished.
Meanwhile, in Singapore, decades-old laws relating to national security have not only remained in the books, but they have also been expanded to give law enforcement greater power to conduct warrantless searches and seizure of property. Under the Public Order Act, even a one-man assembly constitutes an "illegal gathering". In October 2017, Seelan Palay, a 32-year-old visual artist, was arrested outside Parliament House for taking part in a one-man protest commemorating the detention of Chia Thye Poh, the world's longest political detainee. He was subsequently charged in May 2018 for "participating in a public procession".
Encouraging criticism of the government
On 26 May, Prime Minister-in-waiting and de facto leader of Parti Keadilan Rakyat, Anwar Ibrahim called on the Malaysian media to "start doing its job and criticizing the new Pakatan Harapan government". He also urged the media to take seriously its role of providing checks and balances in the country.
"In the current euphoria, all the media outlets are supporting Pakatan Harapan (PH). Once we have settled down, the media has the right to criticize both the federal and state governments of PH."
While Malaysia is liberalizing in its approach to media criticism, Singapore's mainstream media remains firmly in the grip of the ruling party. In the 2018 Reporters Without Borders Press Freedom Index, Singapore ranked a dismal 151 out of 180 countries, behind Malaysia (145) and on par with third-world African countries like Ethiopia and Swaziland.